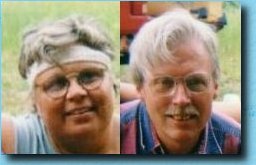 Jacalyn Krause is a mother of six, with an associates degree, who fell in love with clay at Community College. Norm van der Sluys has a degree in Art History and thought his artistic outlet should be paint and canvas until he met Jacalyn and started to play with clay.
We are proud to be craftspeople. We think there is a place for us in this increasingly "hands-off" culture of ours. Handmade objects for everyday use remind us that there are flesh-and-blood people out there behind the TV commercials and the chat handles.
---
The contents of this page and the designs depicted herein are © Copyright 1999 Jacalyn Krause and
Norman van der Sluys.